A Little About Our Camp's Namesakes
Comrades Orlando LeValley and George F. Heusted
The LeValley- Heusted Camp is named for two of Tuscola County's last Comrades of the Grand Army of the Republic, Orlando LeValley of the Whiteside Post #143 in Caro, Michigan and George F. Heusted of the Lonson Post #255 in Mayville, Michigan.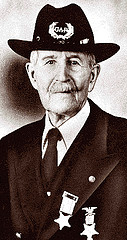 Orlando LeValley was born September 19, 1848 and grew up in Lapeer County on a farm just east of Columbiaville, MI. Just days after his sixteenth birthday he enlisted as a subsitute and was mustered into Company "E", 23rd Michigan Infantry. This unit was, at the time, serving in the west under overall command of General George Thomas. Orlando LeValley arrived at the front just in time to help turn back Confederates under General John Bell Hood in the battles of Spring Hill, Franklin, and Nashville. Now a seasoned veteran, LeValley found himself headed eastward with the Union 23rd Corp to be put onto troop transports to Wilmington, North Carolina to help with the mopping up operations there. After the cessation of hostilities, in June of 1865 he was transferred to the 28th Michigan Infantry and was discharged on October 14, 1865.
Orlando LeValley returned to Lapeer County but soon, some say with his army bounty money, he purchased 80 acres located between Caro and Fairgrove, Michigan. There, he would marry, raise six children and live out his life as a farmer and respected citizen of his community. He would join and later become active in the Whiteside Post #143 of the Grand Army of the Republic.
In 1940 Mr. LeValley was elected Department Junior Vice Commander for the Department of Michigan The following year he was chosen Senior Vice Commander and, as America plunged into World War II he assumed Command of the Department in the spring of 1942. He would Command the Department for one year but would return to Command in 1945, there to serve until his death on April 19, 1948. Mr. LeValley also served as National Patriotic Instructor through the mid forties until his death. He is at rest in the LeValley family plot in Brookside Cemetery, just outside of Fairgrove, Michigan. He was Michigan's last Civil War veteran.
Orlando LeValley was beloved by all. In the waning years of the Grand Army he courageously carried out the duties of the leader of his Order. With the help of his daughters to drive him about and Department Secretary, Leah Simpson Marshall to handle the administrative duties, he went about his task with a quiet dignity that would be his trademark. Over sixty years after his death he is the iconic symbol of the Grand Army, here in Michigan.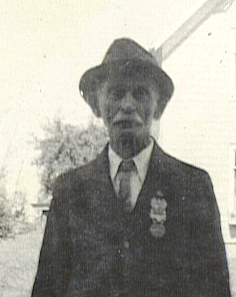 Our Camp is also named after George F. Heusted who was a Mayville farmer and long time member of the Lonson Post #255, in Mayville, Michigan
Born October 25, 1850 George Heusted ran away from home--twice-- to join the army. The first time when he was not yet twelve years old was in the spring of 1862. He was spotted in an army camp by a relative and returned home. In early October, 1864 while still thirteen, he ran away again and to make sure he would not be traced, changed his name to James Gurney. He was sent south and, perhaps because of his slight stature, was assigned to the cavalry. He arrived in Atlanta, GA just prior to the start of Sherman's famed "March To The Sea". For the next seven months he rode flank and picket duty with Michigan's Ninth Cavalry.
With the war concluded, on July 25, 1865 he was honorably discharged and returned home—still five months before his fifteenth birthday. He became a farmer in Springfield Twp., Oakland Co. and in 1868 he married Alice Loraine Friday. In all, they had five sons and a daughter. The first, Elmer, died as a toddler. Clarence died, as a newlywed, of typhoid. The rest, Fred, John, Nellie and Evans married and leave descendents behind. In 1881 he moved to Watertown Twp., in Tuscola County, where he farmed until his death in 1944.
Friendly and with a lilting wit, Mr. Heusted was a Mayville farmer and respected member of the Mayville community. Spry and active into his nineties he would come to enjoy the attention of the media as they covered his advancing years. Always active in Lonson Post affairs, he also served as Department of Michigan Junior Vice Commander at least once.
At the time of his death there were only twelve Michigan Civil War veterans left (out of some 90,000 who served from Michigan). George F. Heusted lies with his wife, Alice in Watertown Township Cemetery, near Fostoria, Michigan. His mother, Nellie Hollister Heusted Buzzel and a son, Clarence are also at rest in this lot.
In their later years Mr. LeValley and Mr. Heusted became friends, probably through their GAR involvement, visiting each others' homes on several occasions. When George Heusted died in April, 1944 it was his friend, Orlando LeValley who at 96 years of age came to his home to pay his respects and offer his condolences to Mrs. Heusted. Though it was the fire of their youths that marked much of their lives it is the quiet gentility of their later years that endear them to us today. Friends and gentlemen to the end.
We salute Comrades Orlando LeValley and George Heusted and proudly bear their names as we seek to honor all who wore the blue as they fought to preserve the Union from 1861-1865.