In Memoriam

Sadly, we must occasionally mourn the passing of a Brother, who has devoted himself to "Keeping Green The Memory of those who rose to defend the Union.
With sadness in our hearts we must bid farewell to our loved one as he goes to gather, with his pards, 'round Heavenly campfires and be with the Divine hosts in the army of the Lord.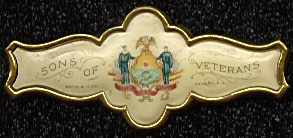 The noble son of a noble sire has fallen.
March 11, 2009 brought the sad news that Brother James T. Lyons, P.D.C. of Curtenius Guard Camp #17 had succumbed to illness that had beset him for over a year. Brother Lyons was loved by all and he will be deeply missed. He was instrumental in re-establishing the Department of Michigan in the mid 1980's, becoming the Department Commander in 1988 and later serving as National Secretary and Executive Director of the National Order. Jim mentored and guided many of his Brothers as they went about their various roles in doing the work of the Order. He is probably best remembered for his sterling work as Chairman of the Department of Michigan GAR Records Committee.
James T. Lyons, P.D.C.
1931-2009
(click on Jim's picture for an obituary).

Thanks to Keith G. Harrison, PCinC of Curtenius Guard Camp #17 for providing the obituary.