Russell A. Alger Camp No. 462
Michigan Camp-At-Large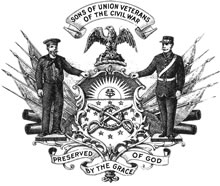 Correspondence:
Camp-at-Large Coordinator
George L. Boller
36270 Hammer Lane
Livonia, MI 48152

Email Address: George L. Boller
Officers:
NEW! - "Although having 501(c) (4) Tax Exempt Status. "Donations to the Department of Michigan - Sons of Union Veterans of the Civil War, its Camps, or Sons of Veterans Reserve Units operating within the Department of Michigan, Are Not Tax Deductible."
About the Russell A. Alger Camp No. 462
The membership of the Russell A. Alger Camp is composed of Brothers who do not reside near a local camp or choose not to participate on a camp level. The camp has no meetings but members are invited to attend any regular meetings of any SUVCW Camp, Department of Michigan Encampments, and National Encampments.
About Russell Alexander Alger
Russell Alexander Alger was born in Lafayette Township, Medina County, Ohio February 27, 1836. At the age of 11 his parents died and for seven years he labored on a farm, attending Richfield Academy, in Summit County, Ohio in winters, and subsequently taught country school. Later he studied law at Akron, Ohio and was admitted to the bar by the Supreme Court of that state March 1859. The degree LL.D. was conferred upon him by Hillsdale College in May 1855. In December 1859, he moved to Grand Rapids, Michigan and extensively engaged in the lumber business and other industries.
In August 1861, he enlisted in the Army and mustered into service as Captain of Company C, Second Michigan Cavalry on September 2, 1861. He was promoted Brevet Major-General U. S. Volunteers June 11, 1865 for gallant and meritorious services during the war, having participated in 66 battles and skirmishes.
For more information on General Alger see the SUVCW National website at http://suvcw.org/garcinc/alger.htm