Michigan Battlefield Monuments Project
While visiting the Chickamauga battlefield in Georgia a few weeks ago, I located a few monuments to Michigan troops and took some quick photographs. I have also photographed almost every Michigan monument at Gettysburg.
This started the rusty wheels turning and an idea was born. Acting for the Department, I would like to gather together a photograph of every Michigan monument on every Civil War battlefield. Once they are all in, we can publish a book or a CD or a combination thereof or something to benefit our Department. This will help honor our veterans from Michigan and also take an informal survey of what is out there and what condition it is in.
If you visit any one of our civil war battlefields in the next year or so, please take a minute to locate and then photograph any monument erected to a Michigan unit or Michigan men. Send me a copy of the photograph - either as a digital attachment to an email, or a hard copy.
I probably will not return hard copies, so don't send me your only print. Don't worry about duplicates, I would rather have a couple of choices for each monument, I will publish a list of what 1 have from time to time in the Messenger.
It should only take a year or two to complete the first stage of this project in gathering together photographs of every monument. 1 will then bring the issue of possible publication to a Department Encampment and we can decide how to proceed. If nothing more than adding these photographs to our Department web site to allow all to enjoy free of charge - it will be well worth the time we are investing now.
Jim Pahl
Past Michigan Department Commander
Past Commander in Chief
jbpahl0824@yahoo.com
445 West Maple Street
Mason, MI 48854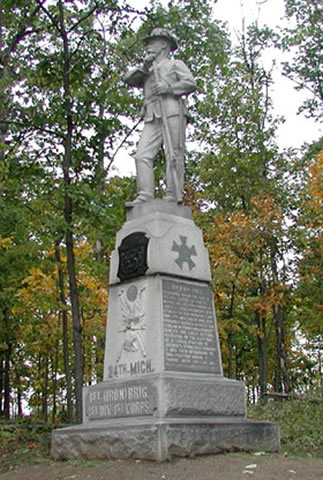 24th Michgan Monument at Gettysburg