Carpenter-Welch Camp No. 180
Ann Arbor - Ypsilanti, Michigan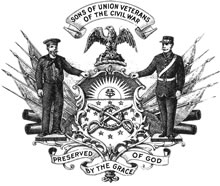 Correspondence:
Commander - David W. Speer
Secretary - Michael VanWasshnova
1740 S. Grove Road
Apt. 206A
Ypsilanti, MI 48198-6658
(734) 485-1470
Officers:
NEW! - "Although having 501(c) (4) Tax Exempt Status. "Donations to the Department of Michigan - Sons of Union Veterans of the Civil War, its Camps, or Sons of Veterans Reserve Units operating within the Department of Michigan, Are Not Tax Deductible."
About the Carpenter/Welsh Camp No. 180
The Carpenter/Welch Camp 180 was so-named by the charter members to show that it represents all of Washtenaw County. The name was taken from two local GAR posts, specifically, Carpenter Post 180 in Ypsilanti and Welch Post 137 in Ann Arbor. The Carpenter Post was originally named for two Carpenter brothers from Ypsilanti who never returned from the war. We are certain that one was John H., a corporal in Co. H, 14th Michigan Infantry, who was KIA near Atlanta, Georgia, on /August 1864 and buried in the National Cemetery in Marietta, Georgia. Research is on-going for his brother. The Welch Post was named in memory of Col. Norval E. Welch, 16th Michigan Infantry, a University of Michigan alumnus and Ann Arbor attorney who overstayed his enlistment and was KIA near Poplar Grove Church, also known as Peebles Farm, in Virginia, on 30 September 1864. He is buried in Forest Hill Cemetery in Ann Arbor.
The Camp meets on the fourth Monday of odd numbered months and on the Monday closes to Memorial Day has met at the old GAR Carpenter Post 180 building in Ypsilanti the past two years.
Its activities include Grave Registration,some (personal-level) Eagle Scout recognition, participation in parades and memorial services on Memorial Day, True Memorial Day, Independence Day, and Veterans' Day, as well as special private memorials and dedications. We also assist other area camps in similar actions. Its current membership includes three Past Camp Commanders, Including one who is Department and Past National Chaplain.
---
Past Commander William B. McAfee receives
The Thayne C. LaBanta Award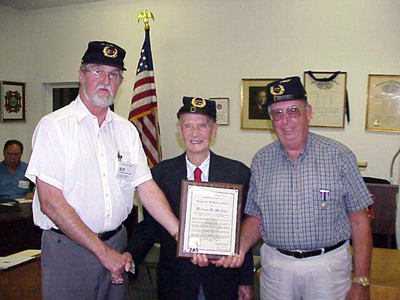 ---
Members in attendance at the Camp's first meeting