General Benjamin Pritchard Camp No. 20
Kalamazoo, Michigan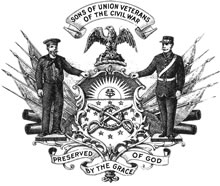 Correspondence:
Camp Commander: John R. Keith

Officers:
Commander:
John R. Keith
Senior Vice Commander:
Gary Thomas
Junior Vice Commander:
Jay Miller, Jr
Secretary:
Jeff Matrix
Treasurer:
David Conklin
Guard:
Clifford Burhans
Guide:
David Conklin
Color Bearer:
Glen Hall
Historian:
Gary Gibson
Chaplain:
Bill Brennan
Assistant Chaplain:
Jeff Baker
Patriotic Instructor:
Steve Rossio
Eagle Scout Coordinator:
Memorials & Monuments:
David Conklin
Graves Registration Officer:
Thomas Bruce
Members of the Council:
Robert Townsend
Mike Culp
Bill Costello
Visit links to other local organizations at: http://www.kalamazoomi.com
Follow this link Camp 20 SUVCW shirts to order shirts our camp is selling.
NEW! - "Although having 501(c) (4) Tax Exempt Status. "Donations to the Department of Michigan - Sons of Union Veterans of the Civil War, its Camps, or Sons of Veterans Reserve Units operating within the Department of Michigan, Are Not Tax Deductible."
About the General Benjamin Pritchard Camp No. 20
The General Benjamin Pritchard Camp No. 20 received its charter November of 1983, and became the fourth SUVCW camp to be organized in Kalamazoo.
Camp No. 20 is involved in several projects, including graves registration, monument care and maintenance, school programs and the proper observance of Memorial Day. The Camp holds services at Riverside Cemetery on May 30th, and also participates in the Allegan parade on the Monday observance, where our Camp also serves as the honor guard at the cemetery services. Another ongoing project is the placement of government headstones on 73 unmarked graves on the Orcutt Post No. 79 GAR cemetery lots at Riverside Cemetery.
The Camp meets on the first Tuesday of the month, March through November, at the Portage District Library, 300 Library Lane, Portage, Michigan 49002. Meetings start at 7:00 pm. We invite you to join us in honoring our grandfathers, the men who preserved the Union.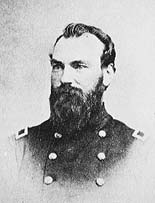 Camp No. 20 is named for Benjamin Pritchard, a native of Allegan, Michigan. Pritchard was Captain of Co. L, 4th Michigan Cavalry, eventually rising to the rank of Lt. Colonel. The 4th Cavalry is most famous for the capture of Jefferson Davis, President of the Confederacy, on May 10, 1865, at Irwinville, Georgia. Pritchard was brevetted a Brigadier General for his role in the capture. Following the War, Pritchard became a banker, and Treasurer of the State of Michigan. His grave is located in Allegan, Michigan.

Newsletters